---
Bank of England
odkazy: oficiální web * muzeum
Majestátní bank of England bývá nazývána i "The Old Lady of Threadeedle Street" (Stará dáma ulice Threadneedle). Banka pracuje jako poradní grémium vlády ve finančních otázkách. Je zodpovědná za objem oběhu peněz, stahuje z oběhu staré bankovky a zajišťuje tisk nových. Kromě toho určuje výši úroků cenných papírů a kreditů. V jejich sklepních trezorech se nachází zlatá rezerva země.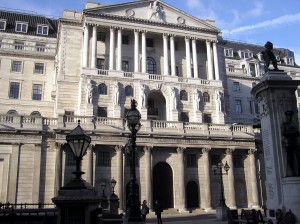 Bank of England byla založena v r. 1694 královskou chartou jako soukromá společnost na financování války proti francouzskému králi Ludvíku XIV. Od r. 1946 podléhá veřejné kontrole. Výstavba budovy banky začala v r. 1788 a byla dokončena v r. 1833. Jejím architektem bl Sir John Soane. Sir Herbert Baker nechal v letech 1824-1839 budovu podstatně přestavět, ale fasádu a korintské sloupy vyprojektované Soanem ponechal. Za zdmi však vybudoval sedmiposchodový komplex. Sochy před vchodem vytvořil Sir Charles Wheeler.
Návštěvníkům je přístupná jen vstupní hala, ale to pouze s předcházejícícm povolením banky.
Bank of England Museum bylo otevřeno v r. 1988. Přibližuje historii a fuknci banky. Vstup do muzea je zdarma.
Komentáře
Přehled komentářů
---
---